Graphic Design
Graphic design by The Art and Web Company provide clients with quality artwork and design at an affordable price, on time and on budget. We understand that any business is only as good as the service it offers, so you will always be given a warm welcome as well as a professional and courteous service.
Graphic Design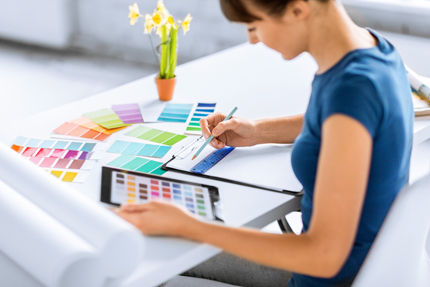 Graphic design is defined as the art or profession of visual communication that combines images, words and ideas to convey information to an audience, especially to produce a specific effect.
Suppose you want to announce or sell something, amuse or persuade someone, explain a complicated system or demonstrate a process. In other words, you have a message you want to communicate. How do you "send" it? You could tell people one by one or broadcast by radio or loudspeaker. That's verbal communication. But if you use any visual medium at all, if you make a poster, type a letter, create a business logo, or even produce a computer printout, you are using a form of visual communication called graphic design.
We at Artwebco have been in the graphic design business for many years and we are proud to be able to say that we have produced artwork for hundreds of businesses both large and small all over the UK.
We can provide quality artwork for everything a growing business needs to promote itself in the marketplace. Our work includes designs for:
Logos / Corporate Identity
Brochures
Folders / Inserts
Leaflets
Booklets
Stickers
Exhibition and Display
Signage and Shop Displays
Vehicle Livery
Garment embroidery and printing
We are also able to offer access to our competitive suppliers of print and signage which means that Artwebco truly is a 'one-stop-shop' for all your promotional requirements.
Illustration
Artwebco also provide a bespoke illustration service which can be tailored to your specific needs. Whether it is a full colour illustration for a book or poster to a black and white cartoon we can supply whatever you need. Please visit our Graphic Design Portfolio to see samples of what we can offer.
Here at Artwebco we have designed many logos over the years and still get a buzz when we see them in magazines, posters and even on buses! Visit our portfolio to see some samples of our work.
If you are looking to create a logo for a company or product please give us a call on 01793 780123.
Call us today on 01793 780123 to discuss your requirements